Lenovo A5
Currently out of stock.
Price was: ₹5,999.00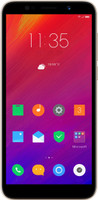 Lenovo A5 Specifications & Features:
Advertisement
Lenovo A5 Overview:
Lenovo A5 mobile price in India starts from Rs. 6,999 and was launched in India in October, 2018 . Regarding Lenovo A5 specifications, the smartphone sports a 5.45 inch IPS display having 720 x 1440 pixels resolution with 18:9 aspect ratio and 295 ppi pixel density. The screen-to-body ratio is 74.3 %. Next, the MediaTek MT6739 chipset with quad-core processor clocked at 1.5 GHz drives the Lenovo A5. Besides, the PowerVR GE8100 GPU pushes graphics crunching in the smartphone. While Lenovo A5 supports 2 GB, 3 GB RAM, it equips 16 GB/32 GB internal storage. The internal memory is further expandable up to 256 GB via micro-SD card. This smartphone runs Android 8.1 Oreo mobile operating system and a 4000 mAh Li-Polymer Non-removable battery powers the smartphone.
The Lenovo A5 features a 13 MP rear-facing camera with f/2.2 aperture and 1 MP video recording at 30 frames-per-second. On the front, it has a 8 MP front-facing camera with1 f/2.2 aperture and 1 MP video recording at 30 frames-per-second. Next, it supports dual SIM slots that accept nano SIM type. In addition, it supports micro USB 2.0 and a 3.5mm audio jack. Regarding cellular technologies, it offers GSM, 3G and 4G LTE with VoLTE support. In terms of connectivity technologies, it offers Wi-Fi, mobile hotspot and Bluetooth. As sensors are concerned, it packs sensors such as Proximity, Light, Accelerometer, Fingerprint, GPS and A-GPS.
Advertisement